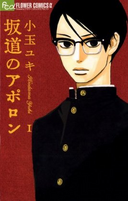 Kids on the Slope (Japanese:坂道のアポロン Sakamichi no Apollon)is a japanese manga series by Yuki Kodama. It was published by Shogakukan. The manga has 9 volumes and one extra volume.
The beginning of summer, 1966; because of his father's job situation, freshman high school student Kaoru Nishimi moves by himself from Yokosuka to Sasebo in Kyushu to live with relatives. Until then, Kaoru was an honor roll student who tended to keep to himself, but meeting notorious "bad boy" Sentaro Kawabuchi starts to change him. Through his devil-may-care classmate, Kaoru learns how much fun it is to play jazz and finds the first person he can call a real friend.
Reception
Edit
The manga series won the 57th Shogakukan Manga Award for general manga.[1]
References
Edit
Ad blocker interference detected!
Wikia is a free-to-use site that makes money from advertising. We have a modified experience for viewers using ad blockers

Wikia is not accessible if you've made further modifications. Remove the custom ad blocker rule(s) and the page will load as expected.