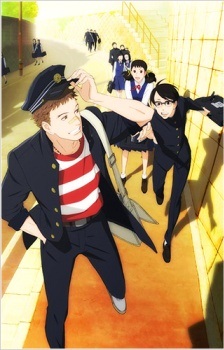 Kids on the Slope
(Japanese:坂道のアポロン
Sakamichi no Apollon
) is an anime series based on the Yuki Kodama's
manga
of the same name. The anime has a total 12 episodes. It aired from April 12 to June 28, 2012.
Summer 1966: Kaoru Nishimi has moved to live with relatives in Kyūshū. He's been an aloof honor student his whole life, but that starts changing when he meets Sentarō Kawabuchi, the school's notorious bad boy. Through him, he learns the appeal of jazz and forms his first real friendships.
Production
Edit
Director- Shinichirō Watanabe
Producer- Masao Maruyama
Script- Ayako Katoh,Yūko Kakihara
Character Design - Nobuteru Yuki
Art Director -Shinichi Uehara
Music- Yoko Kanno
Art - Chieko Nakamura (ED), Minoru Nishida (OP)
Chief Animation Director - Katsuya Yamada (ep 9), Yoshimitsu Yamashita
Original Creator- Yuki Kodama
Producer - Daisuke Konaka, Noriko Ozaki (Fuji TV)
Executive producer - Atsushi Terada, Junichi Shinzaka, Naoki Kitagawa, Yatsuho Tomikawa (Fuji TV)
CGI Director - Yuushi Koshida
Director of Photography - Kenji Takehara
Ad blocker interference detected!
Wikia is a free-to-use site that makes money from advertising. We have a modified experience for viewers using ad blockers

Wikia is not accessible if you've made further modifications. Remove the custom ad blocker rule(s) and the page will load as expected.